"Salesmanship or Death. Anti-guidebook" by Marcin Przybyłek is a mocking book, one of a kind. The author has a great courage (with a capital C) to underline the absurdity of a great amount of terms and "beliefs" professed by a lot of managers and businessmen. As he is writing, 'he is pricking a swollen balloon of clichés' which grew on above professions. However, it's not only an exposing book. The author is sharing his knowledge of surprisingly a lot of different areas and gives answers to many difficult questions. "Anti-guidebook..." is a witty, shrill book, sometimes balancing on the verge of good taste but not overstepping it. In brief: a book for those who think and, paraphrasing the author, also for those unthinking, maybe they will learn something.

If you want to buy Anti-guidebook, please contact publisher info@konsultanci.org.pl.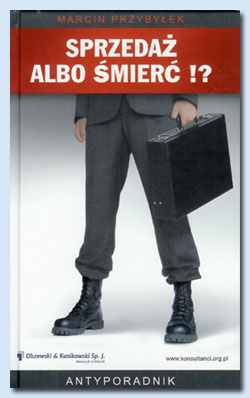 Covers of other editions

Grafika: Marcin Przybyłek, Marcin Jakubowski, Marek Okoń, Robert Letkiewicz.
Wykorzystano grafiki Tomasza Piorunowskiego, Marcina Trojanowskiego i Tomasza Marońskiego.
Webmasterzy: Lafcadio, wiesniak



video game walkthrough
Game-No1
Keno
Szósty sposób - blog Andrzeja Zimniaka
Wawrzyniec Podrzucki